You'd be surprised to know how often I hear "I want to style my own party but I'm not as creative". To be honest, no party should be the same. Why? A party should reflect the personality of the host or guest of honor. It should be an opportunity to not only bond with your guests but to give the chance to let them know you a little better. How may you ask? Easy, incorporate details of items you like- favorite desserts, candy, flower, color.
I just really love parties and a new baby is one of the best reasons to have a party. The parents-to-be wanted to keep the sex of the baby a surprise. So, since we didn't know if it was a girl or a boy we decided to go with a fun "bee" themed party – "What Will it Bee??".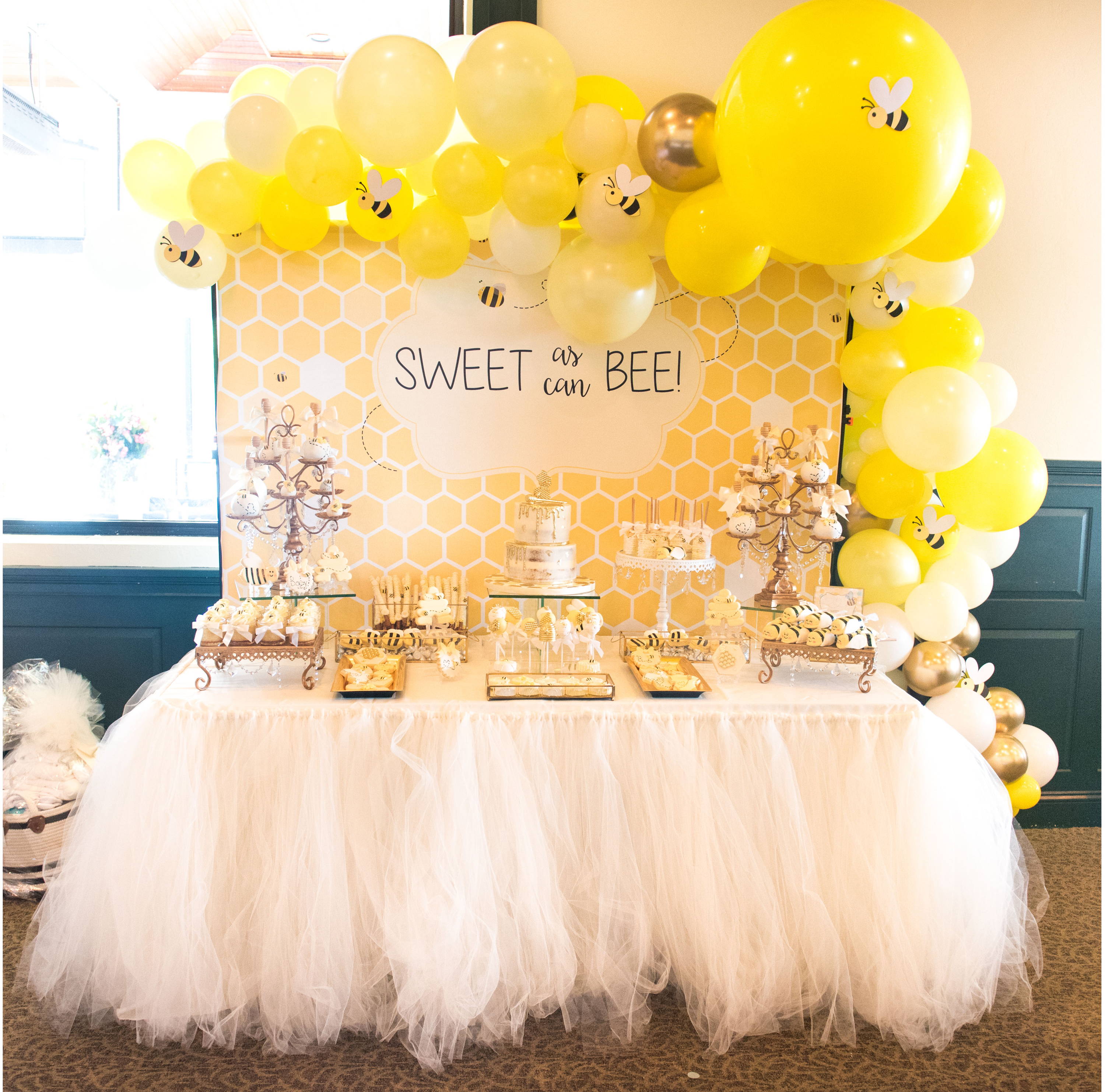 You'll want to establish your color palette before purchasing any decor or even ordering your invites! You'll want to carry that through your event. In this case, the mother-to-be requested honey colors - with a touch of shabby chic. Our color scheme was white, ivory, honey, warm yellow and gold. This theme could easily be hosted at a local park or garden or at your own home. As mid-summer in New York can be a crowd killer, we decided to go with a restaurant by the water that had a beautiful outdoor view. However, outdoors or indoors, no matter where the shower is held, the theme will be obvious by the colors and décor throughout. This particular restaurant had high ceiling with floor to ceiling glass doors overlooking the water, it was air conditioned and most importantly it allowed the beauty of the outdoors to be enjoyed.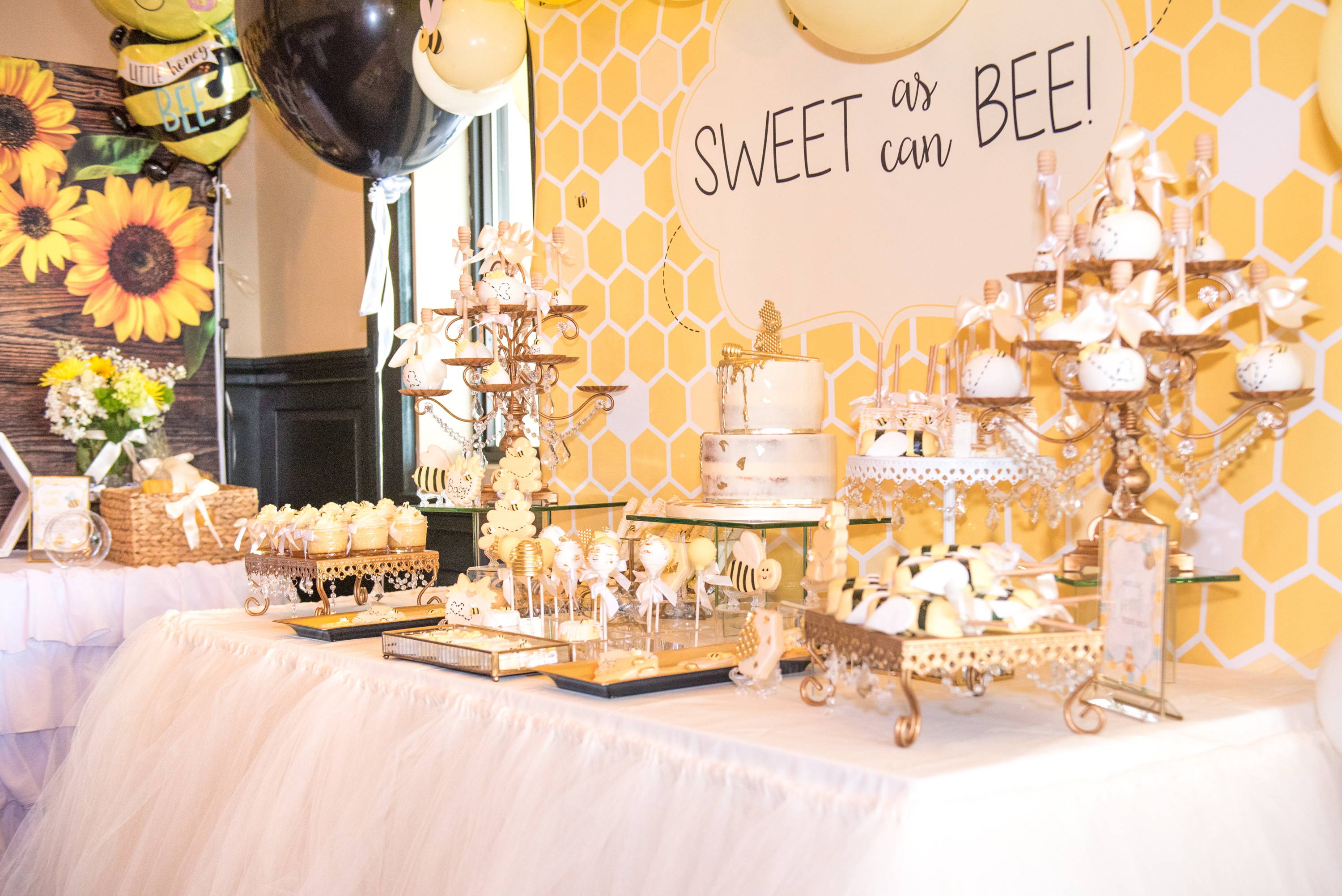 Once you have your theme, color scheme, and location set, you are ready for invites! Now-a-days everyone reverts to email or texting; I decided to go the old fashion way and mail them. This sets the tone for your event. It will let your guests know if they should put their heels or flip flops on. Following my extensive search and endless options, I found the most adorable invite that was cute, chic and matched our theme.
When decorating for a baby shower paying attention to the small details will go a long way. For instance, we used baby's breath for this baby shower and mason jars to incorporate the shabby chic touch. We also added honey combs to our vases as a final touch. Please note, bumble bee signage will give you consistency.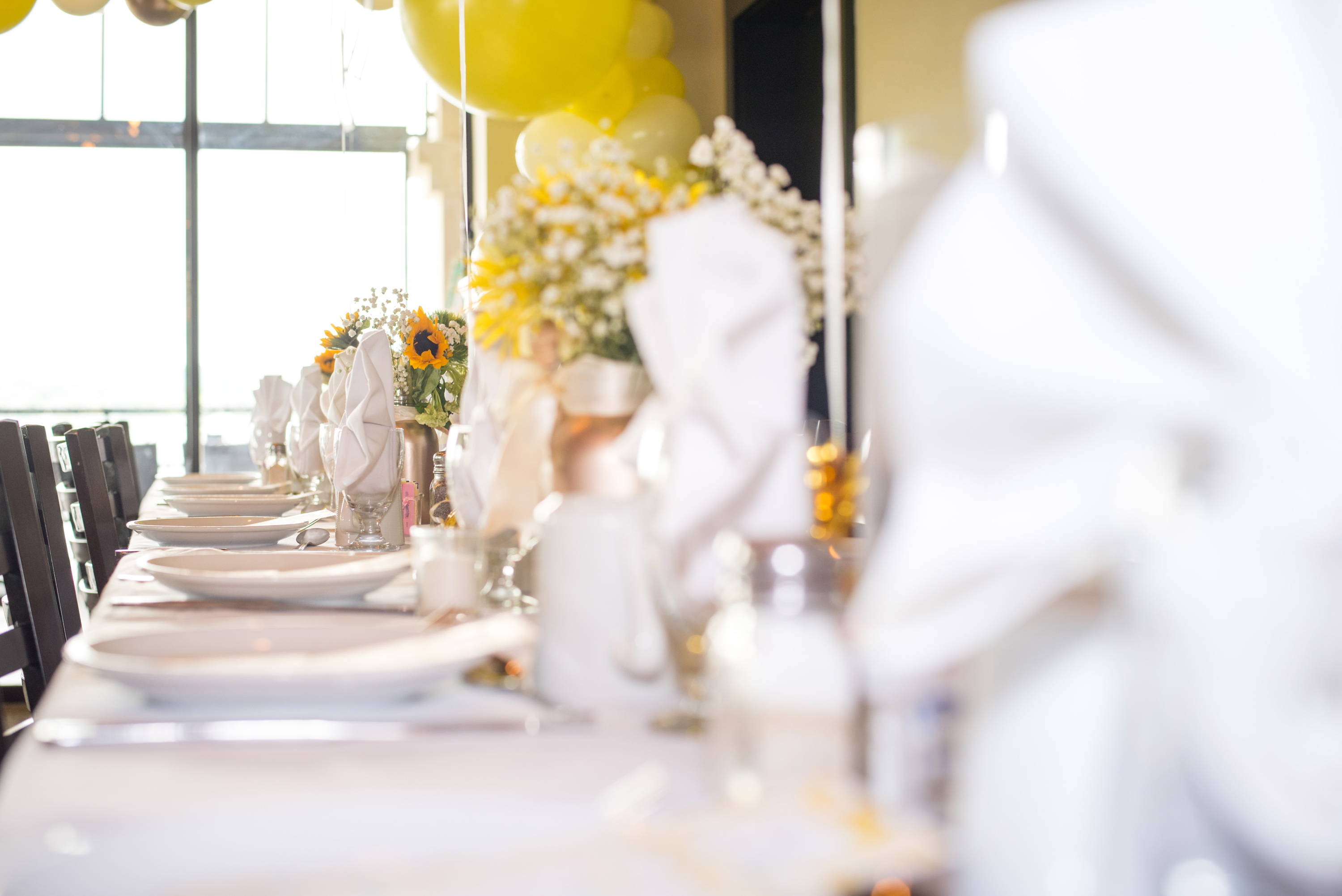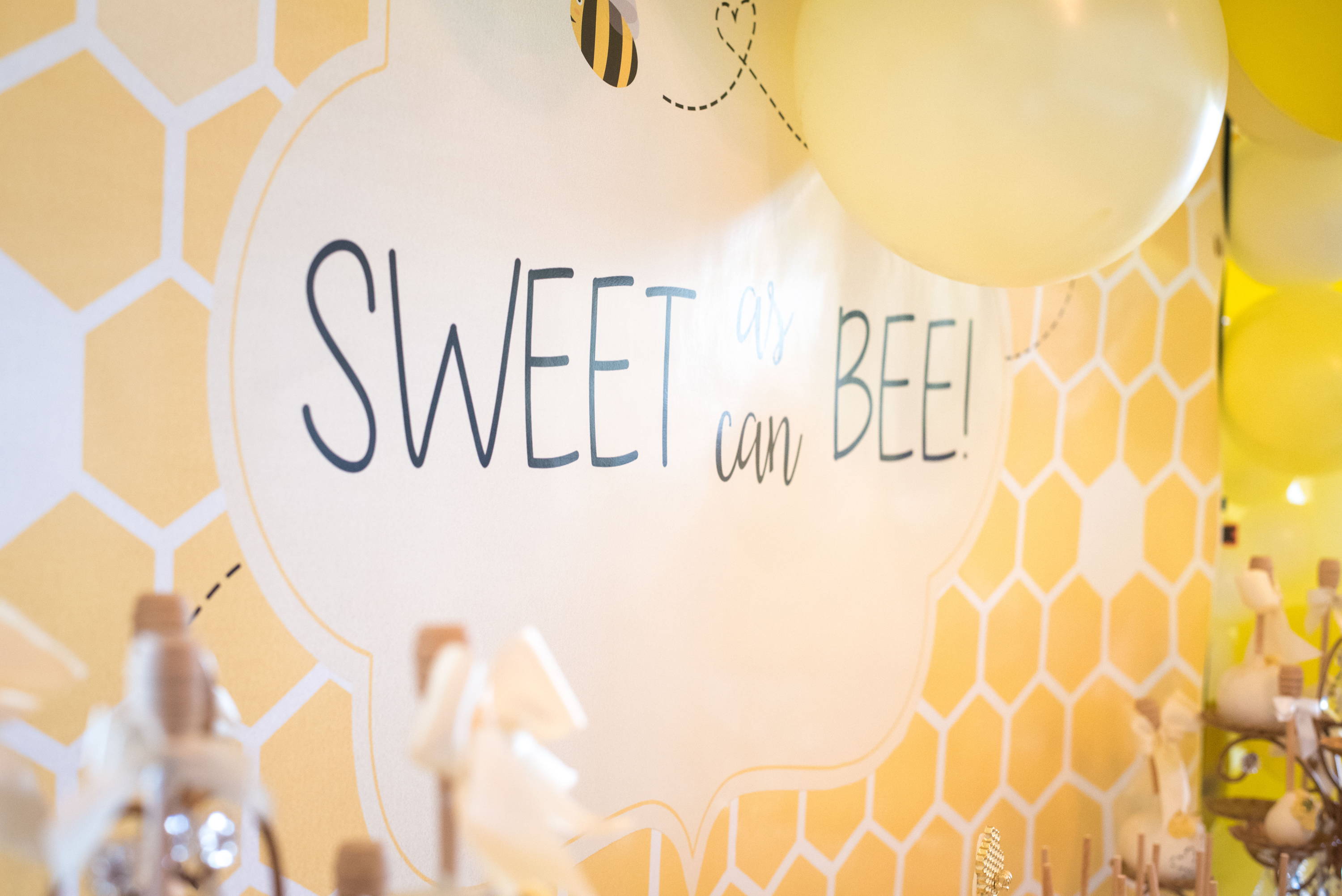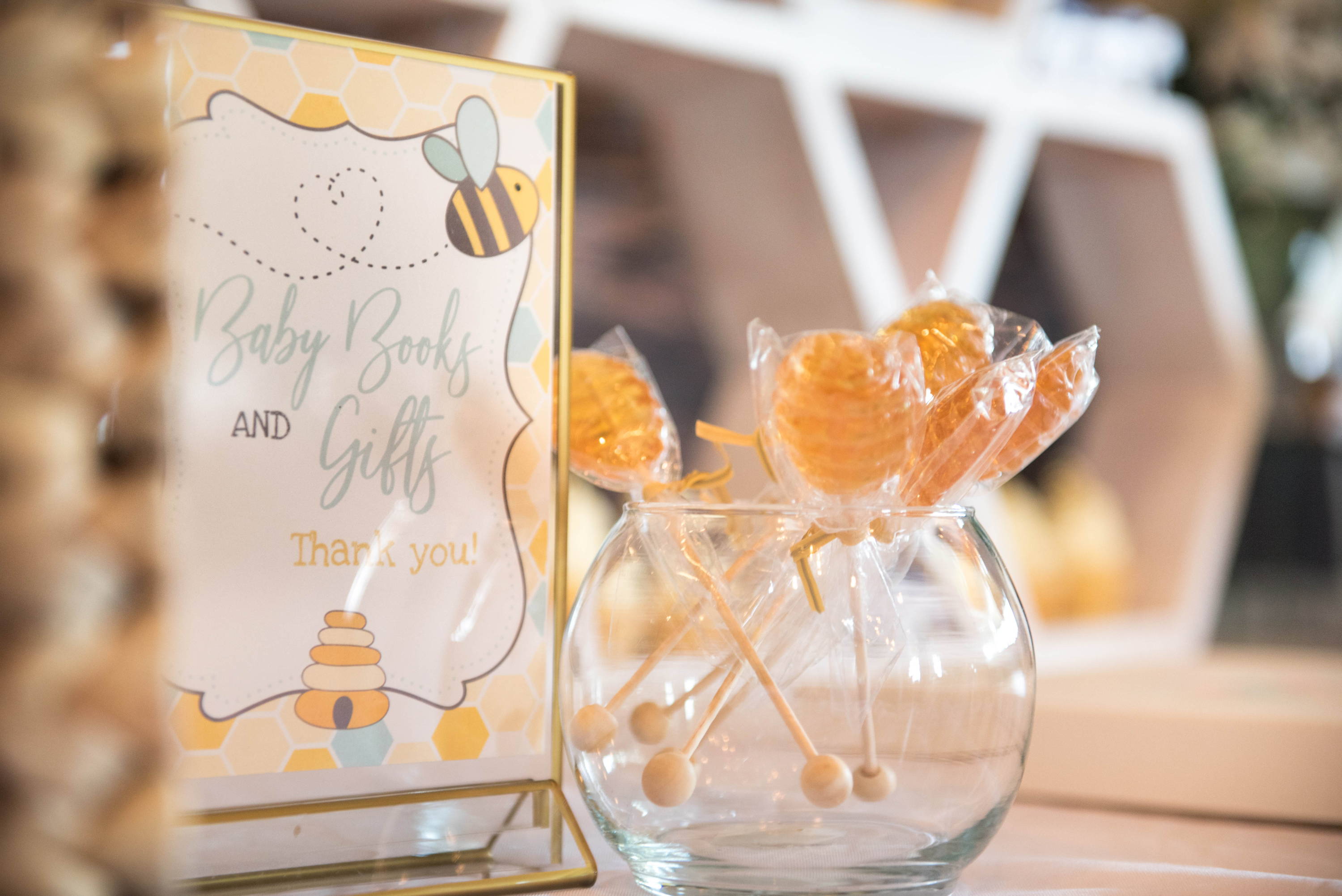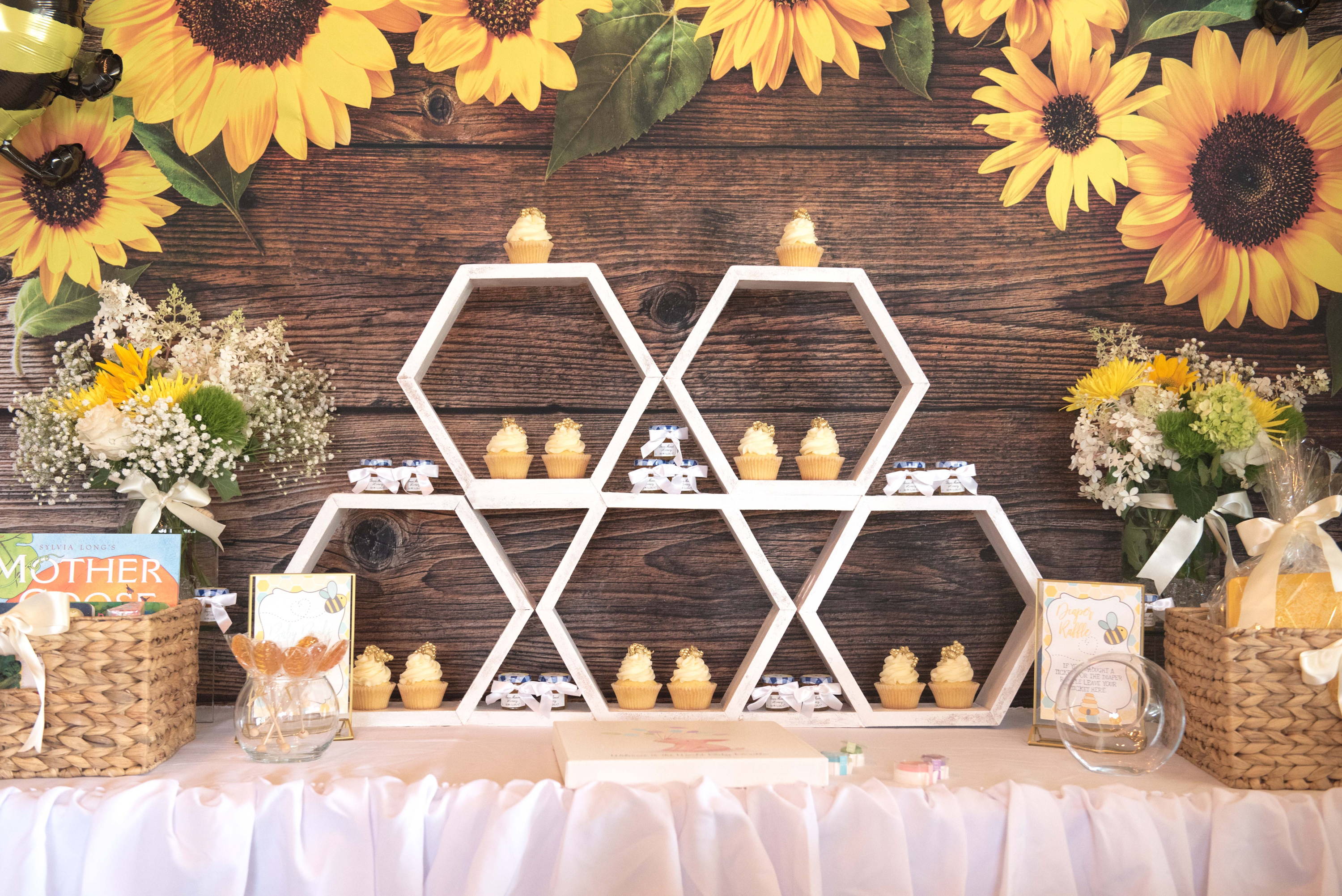 Since our business is desserts let's dive into the dessert table. When you think of bees, you probably think of honey. This natural sweetener can work its way into food and beverages. We incorporated these touches into our desserts. From our lemon cake with honey cream cheese filing, to our honey infused flan with lemon cream cheese. Our chocolate covered twinkies that looked like bumble bees. Our cake pops and caramel chocolate covered apples were on honey dippers. Even our chocolate covered pretzels and oreos had touches of bees and honeycombs. Our favorite, was sugar cookies that matched our theme!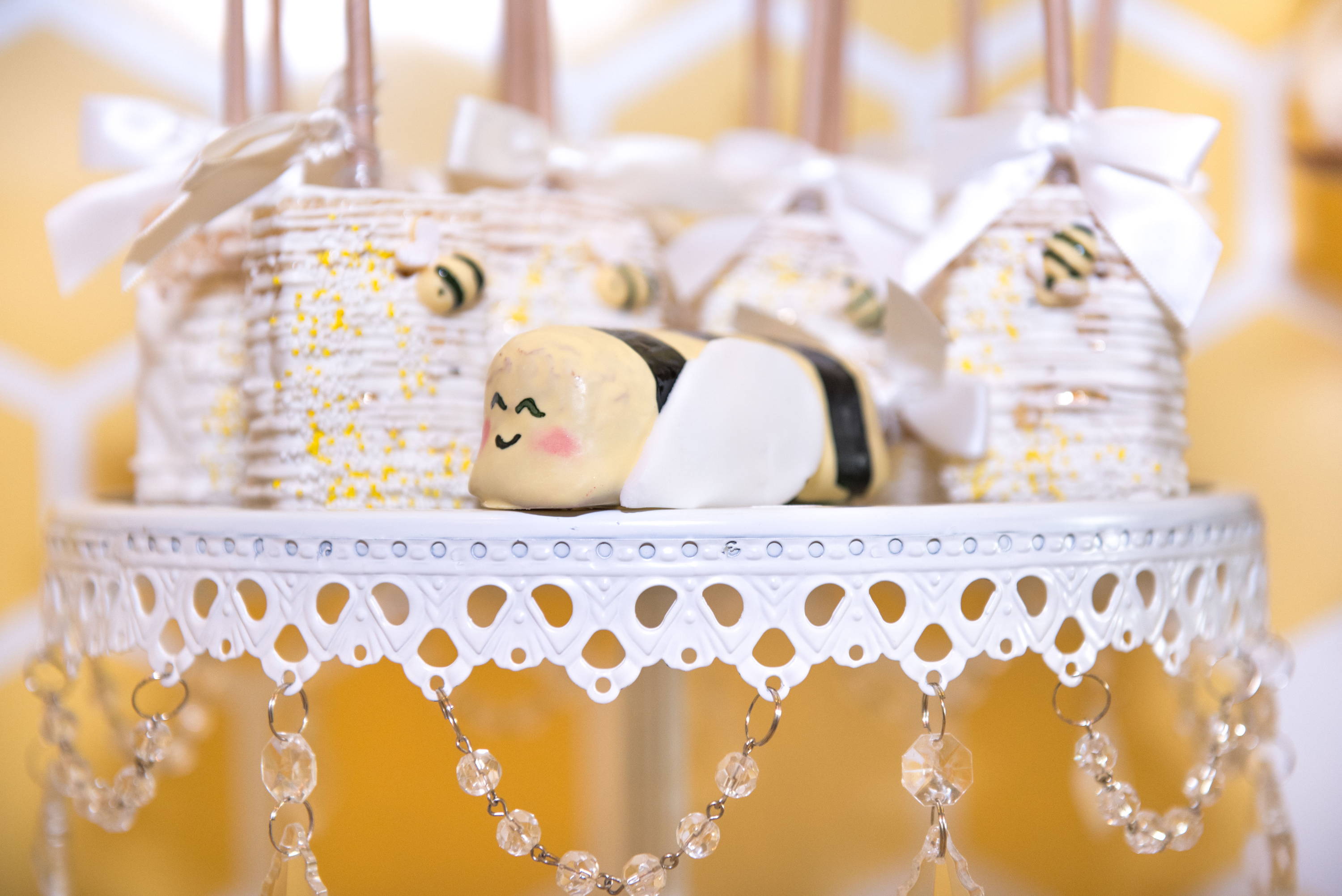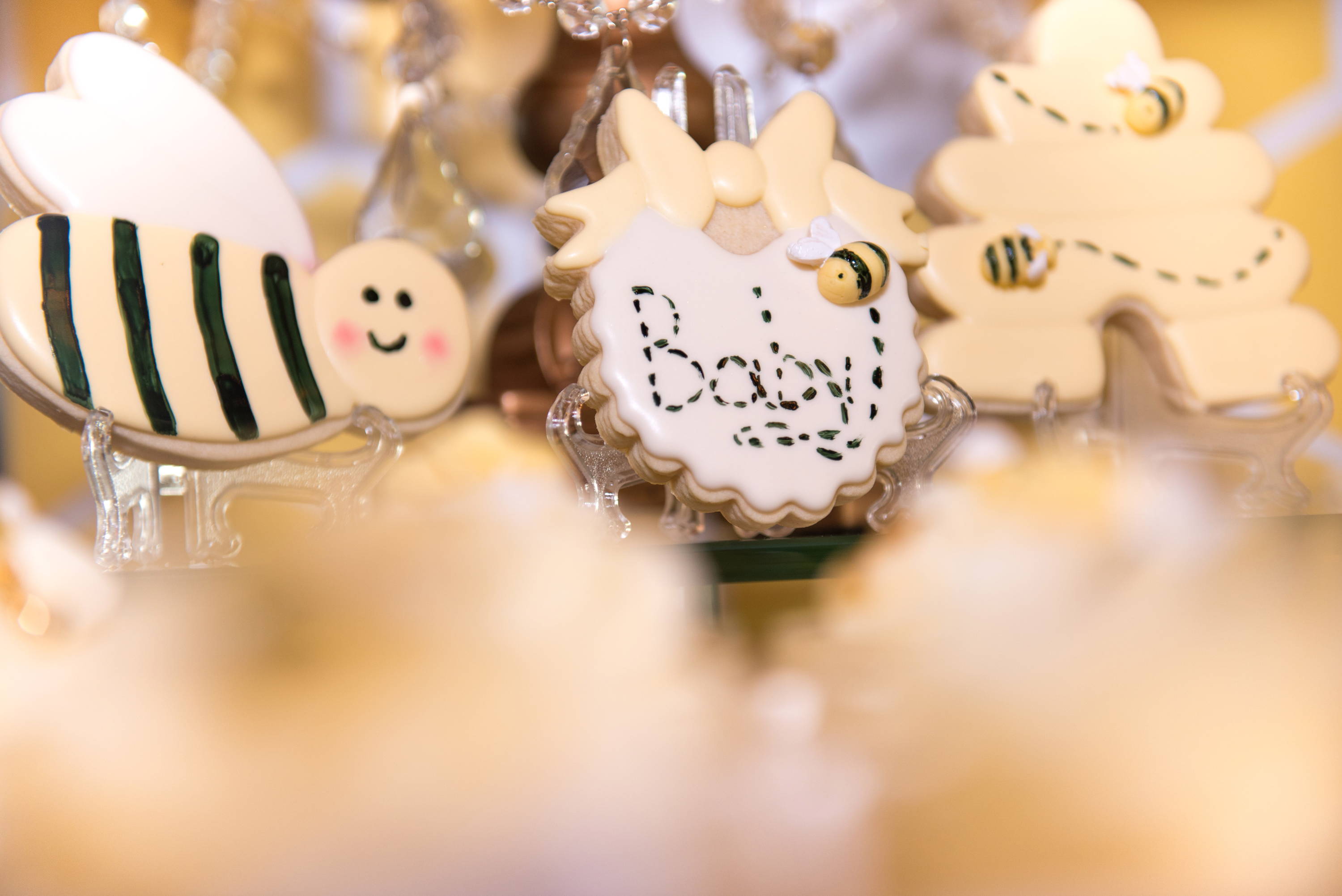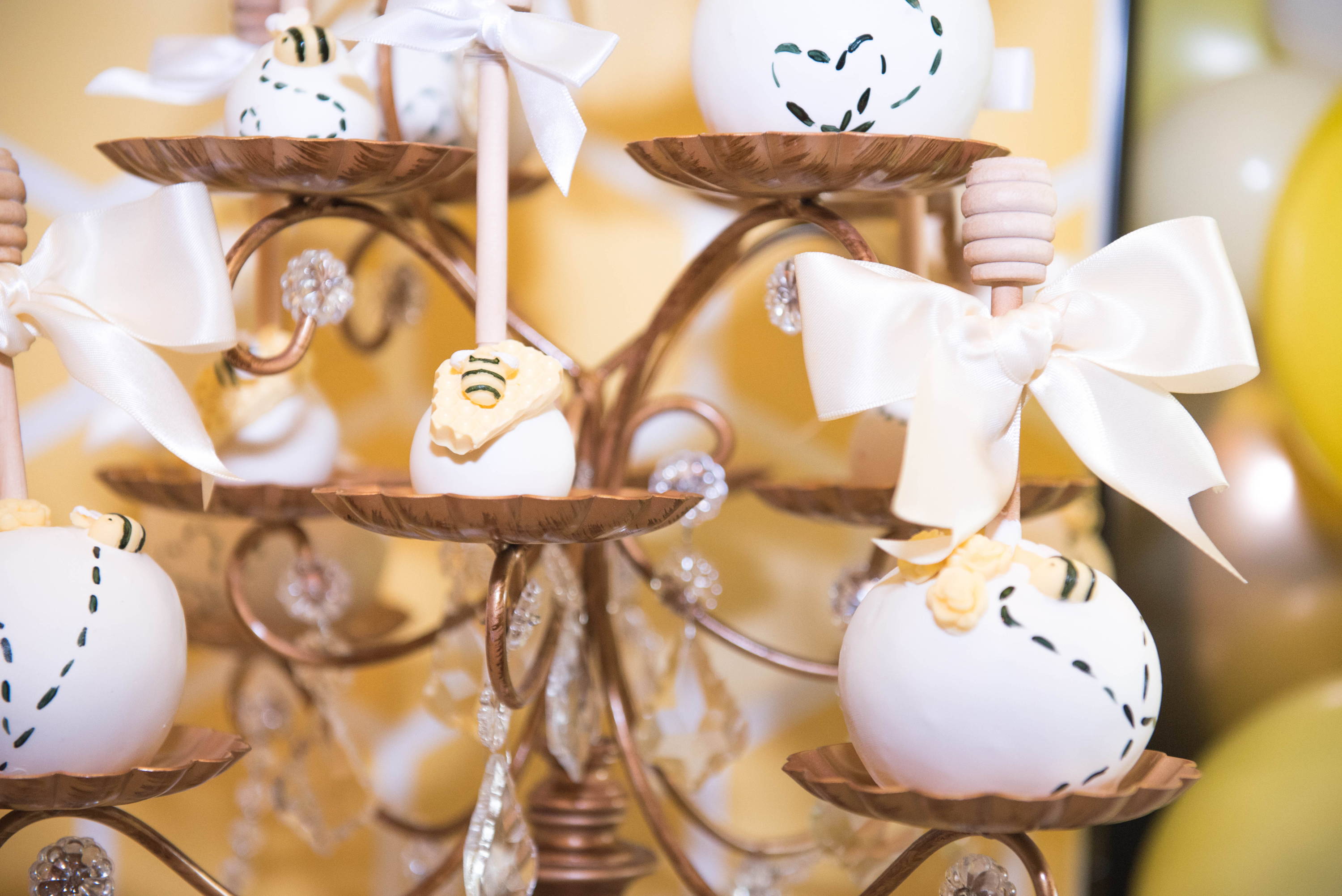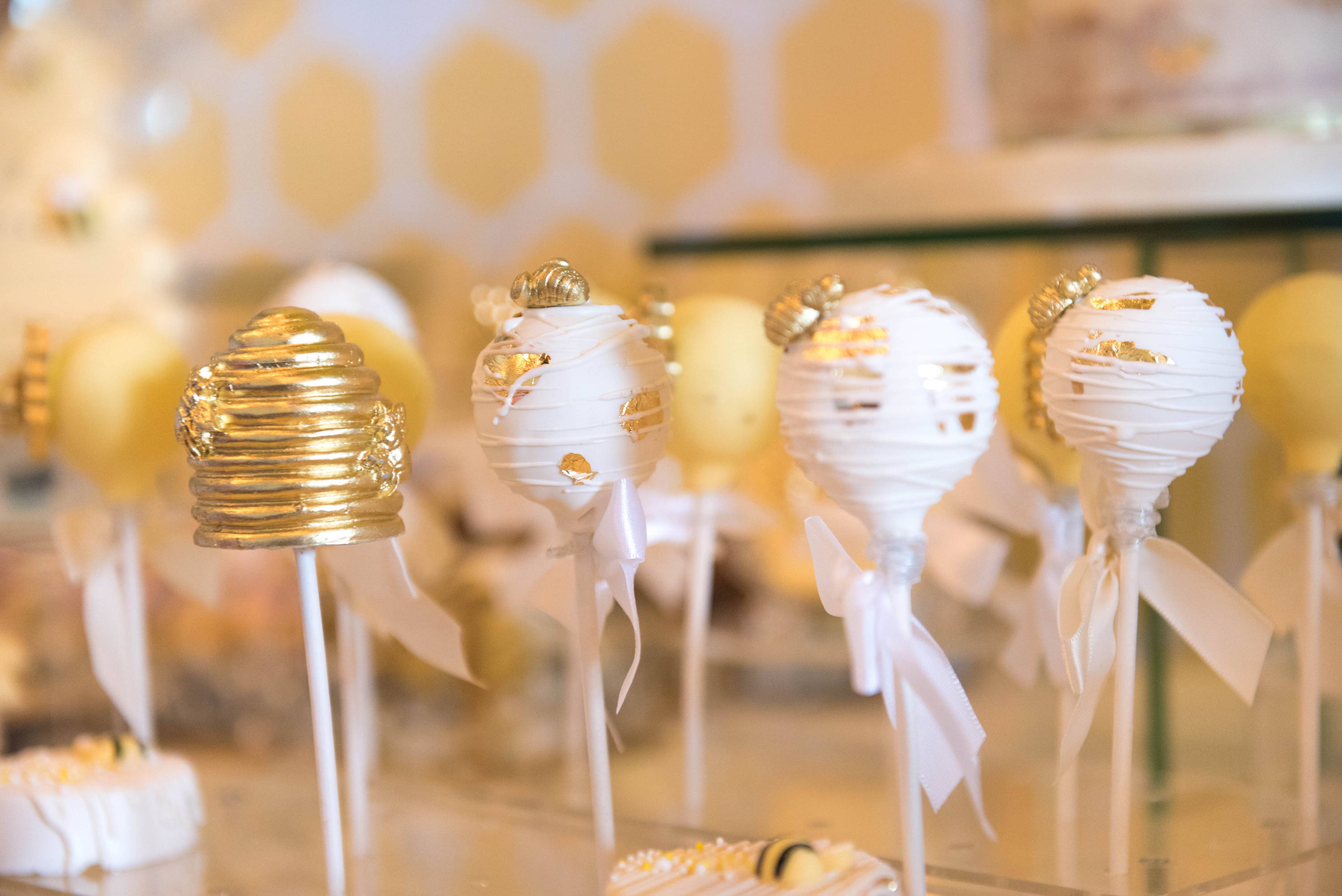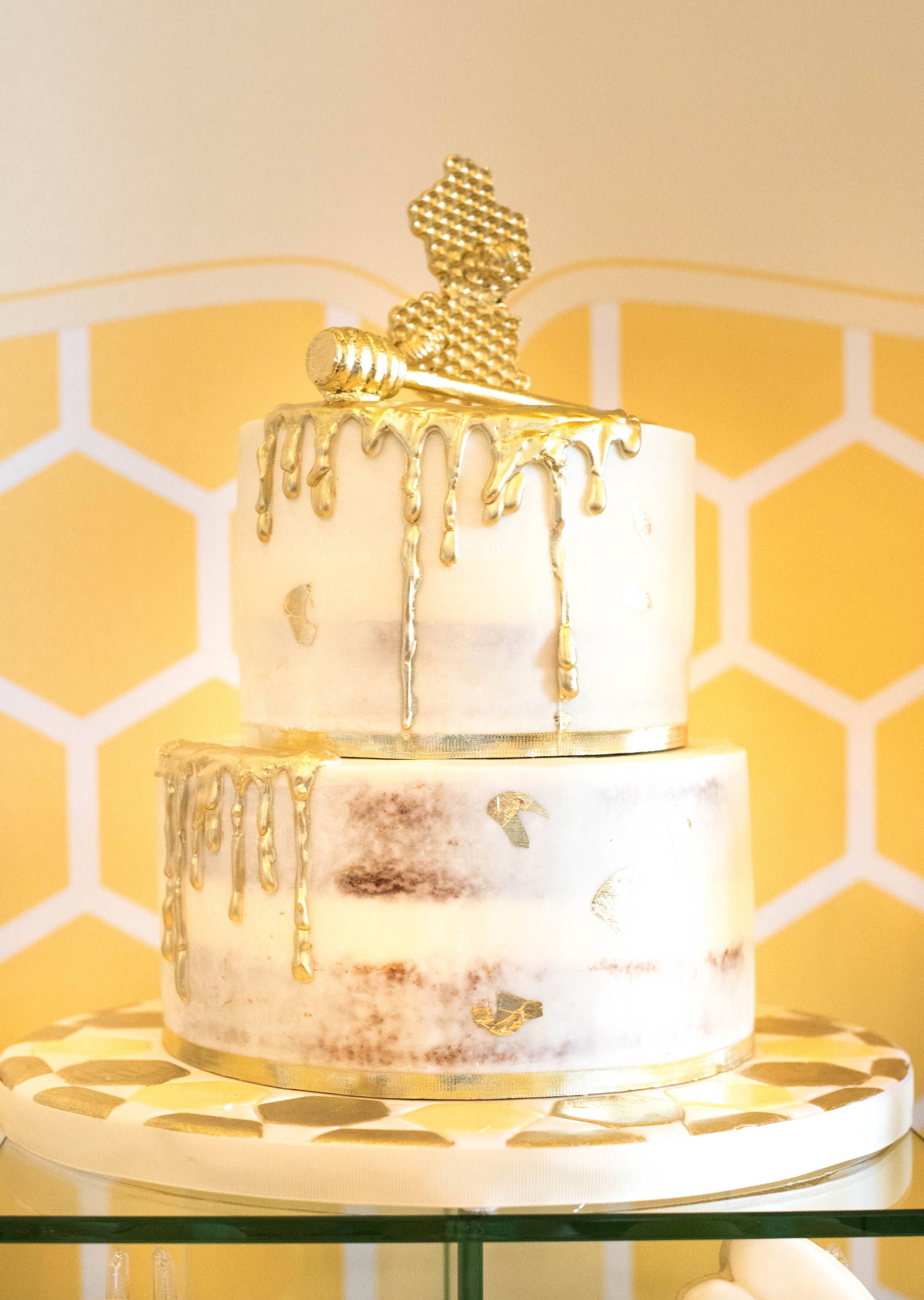 Keeping to your color scheme and theme will make it so that no matter where you put the dessert or candy on your table it will look like it belongs there! My darling husband contributes to my overall craftsmenship, with his carpentry skills. Our beautiful, hand made honeycomb display was once a couple pieces of wood. It was the perfect addition to our gift favor table, which we adorned with lemon cake cupcakes and mini honey jars, for our guests to enjoy at home with tea.
Lastly, I've recently become obsessed with balloon styling. It brings our dessert tables and party layout to another level. No matter what company you hire- balloon artist, bakery, event planner, invitation designer always let them know your color scheme, theme and style.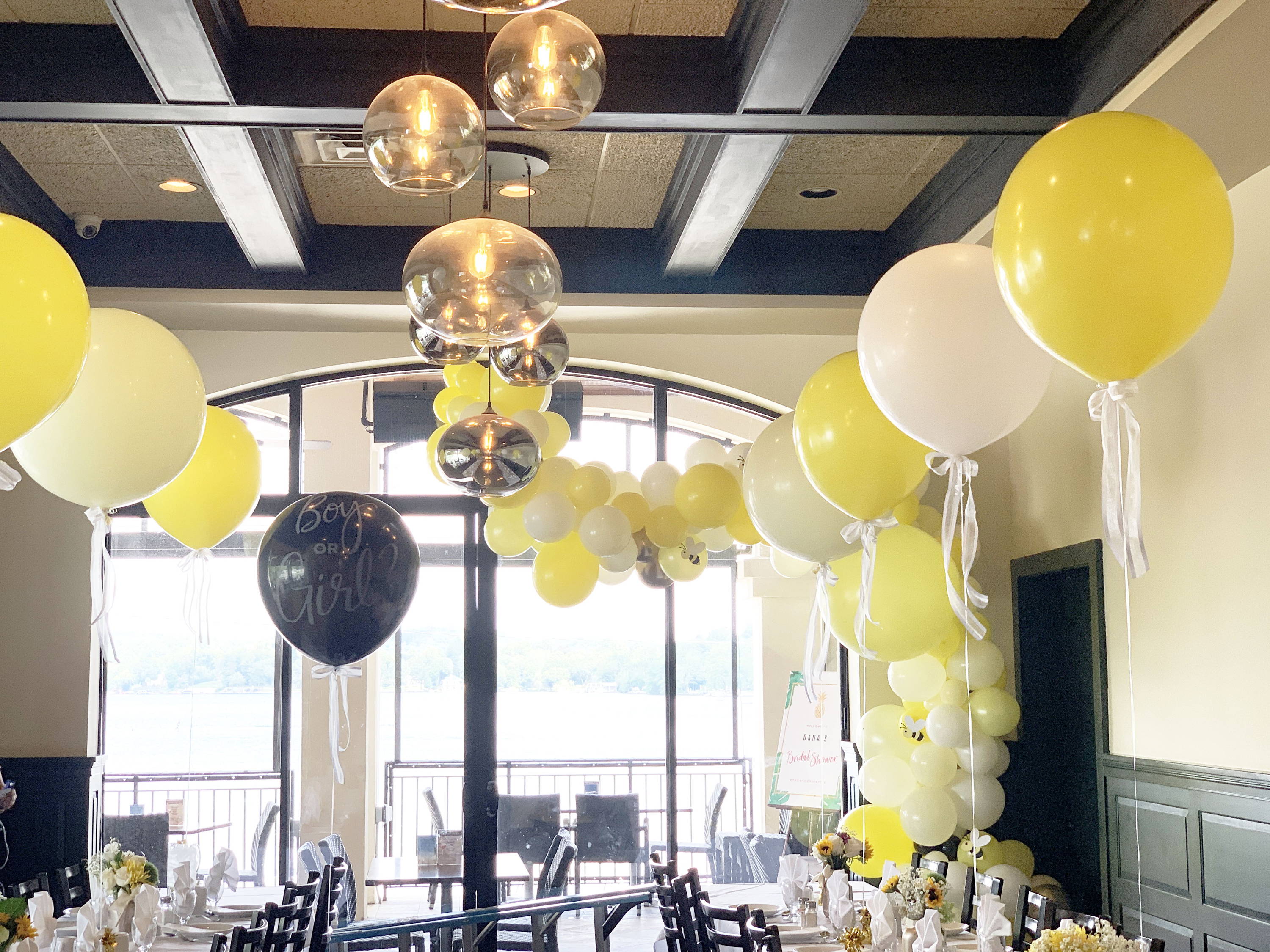 Remember, when you have a vision and are passionate, it all comes together. Getting set for an event is easier than you think. I believe event planning takes two things: inspiration and resources that help bring your ideas to life. You can follow our pinterest board where you can see us inspirational boards.

Read more